The Hateful Eight is a revisionist film, in fact all of Quinten Tarantino's films are revisionist films. Each film has recognisable cinematic DNA yet Tarantino plays with convention to give us his own unique brand of American cinema. Think Reservoir Dogs cutting the robbery that in any other film would be the backbone of the plot, think of the scattered timeline of Pulp Fiction's Altman-like ensemble piece, think of the love letter to kung fu movies that is Kill Bill with Uma Thurman in the Bruce Lee role, he even had Eli Roth kill Hitler. The Hateful Eight is no different. It's recognisably a western, what with the old cloths, guns, and racial politics, but at its heart The Hateful Eight is an R rated Agatha Christie tribute about eight strangers brought together by a snowstorm and an evil woman.
The Hateful Eight of the title are a who's who of Hollywood's past and present. Tarantino continues his habit of dusting off actors whose careers have stalled to give them a nice meaty role to chew on. Kurt Russel, and Jennifer Jason Lee are two such actors: Russel plays John Ruth a.k.a. "The Hangman", a bounty hunter charged with getting Lee's Daisy Domergue to the hangman's noose. Due to a snow storm they, along with Tarantino's main man Samuel L Jackson, who brings his trademark brilliance to the role of Major Marquis Warren, and the films breakout character Chris Mannix, the new sheriff who's played with manic gusto by the great Walton Goggins, find themselves taking shelter at a cabin with four more dangerous strangers.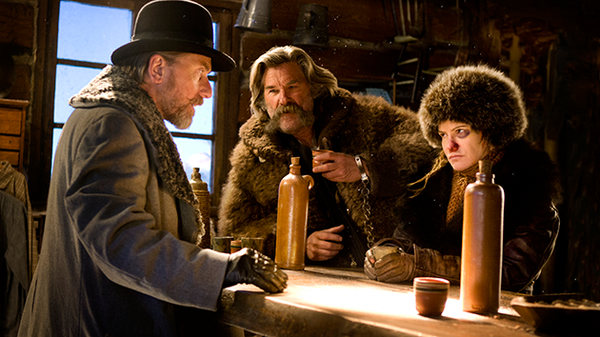 Quinten Tarantino's latest feature sees the director at his best and worst. His famous dialogue seems like it was made for the western genre, and his actors bring it to life with the skill of old pros. A lot was made of his choice to shoot the film on 70 mm film, using Ultra Panavision 70 cameras, and he uses the technique beautifully in the blizzard scenes, but once they get to the cabin it ads very little. The main problem is that the director doesn't convey any real empathy for the films characters. As each die one by one, some in a flurry of blood and gore thanks to The Walking Dead's FX wizard Greg Nicotero, there is no feeling of loss. This is something Tarantino used to master, all his films are populated with crooks, thieves, killers, and scumbags, but he could bring a human quality to them that is completely missing here. And at a sprawling 187 minutes the plot can loss itself in places.
The Hateful Eight isn't one of Tarantino's classics, but it is a tense, ugly, and bloody film, of a genre that he should explore more of in the future.